How long would you look for something like a package of Ramen Noodles?  It aggravates the heck out of me when I can't find something that I know is here.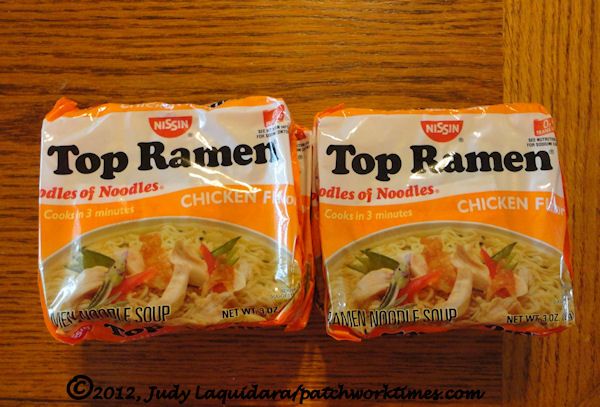 Remember when we went to Big Lots and bought so much stuff that our receipt was 2 miles long?  They had 20% off everything that day and I knew I had purchased a box of Ramen Noodles.  I thought it was a huge box with something like 24 packages in there.  I must've spent 3 hours yesterday looking for those noodles.  I had seen them . . the whole box with all 24 packages in there.  I searched in the sewing room where I store food.  I searched in the pantry in the house.  I searched in the laundry room just in case they got stuck in there.  I searched in the pickup because I thought we were in it when we were shopping and maybe they had slid under the seat.
I called Vince at work and he wasn't in his office so I left a message.  I said:
Vince, Do you remember seeing the box of Ramen Noodles that we bought at Big Lots?  I know we bought them but I can't find them anywhere.  If you don't remember where they are, would you please run by the Stop & Rob and get one package because I'm making the cabbage/ramen noodle salad for dinner."
Vince came home from work and said "No, I don't know where they are."  I said "Did you go by and get more?"  No . . was I supposed to?  He listened to the front part of the message but not the back part!  I had already chopped all the cabbage, toasted the almonds and made the dressing except for the packet from the Ramen Noodle package.
I began searching more.  Vince was saying  "Did you look in the sewing room?  Did you look in the pantry?"  I had looked everywhere but I began looking again and finally found them in a cabinet.  Instead of the 24 pack box, I must've only bought a box of 5 packages and therefore, I was looking for the wrong thing . . a squatty little package stuck behind some packs of coffee.
I could have gotten in the car and driven to the store in the amount of time I wasted looking for those Ramen Noodles.  How long will you look for something before you give up and go buy another one?  Had I not already started the salad, I would have given up after a few minutes of looking.  Normally, I wouldn't have started making the salad without having ALL the ingredients out on the cabinet but I was so sure I had bought those noodles . . I just wasn't planning on having lost them!