Don't you just love it when the children chickens all play together nicely and no one causes trouble?  My 13 red chickens do so well together.  Every now and then, there's some squawking and chasing and flying feathers but I don't ever see any one of them being real dominant.  They're all hens but even in MO when I had all hens, they definitely had their pecking order.
The Dominiques do ok.  The three roosters seem to want to kill each other but once they get out of their fenced run, and running loose in the yard, their only priority is catching bugs and they forget about killing each other.
The Bantams . . everything would be fine except Otis is a bully.  We're resisting getting rid of him because he's so comical to watch but he just isn't a nice rooster.
I was sitting outside watching them the other day and I glanced over and saw Otis and one of the Dominique roosters going at it through the fence!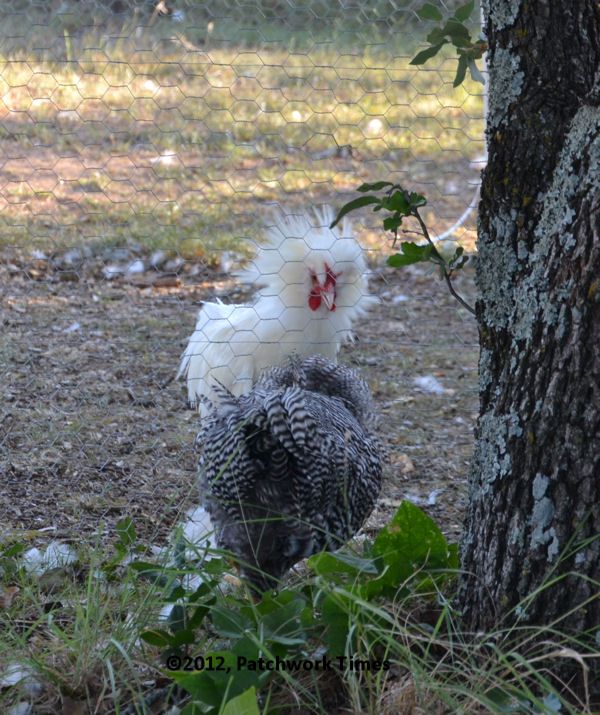 Good grief . . Dominique rooster . . just walk away!  Otis is behind the fence.  You're free to go anywhere you like . . 45 acres to roam and you're going to stand there at the fence and fight with Otis?
Look at Otis!  He has a bad hair day every day but when he's mad . . well, he should just look at himself in a mirror and I don't think he'd be doing that!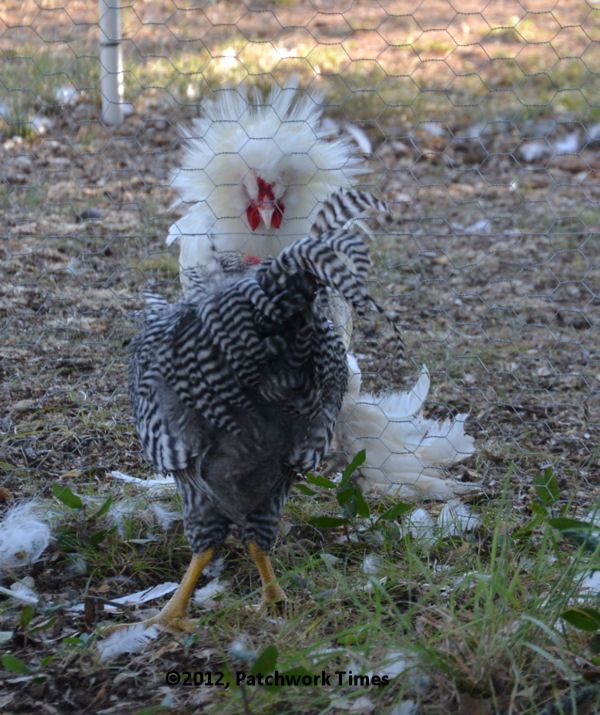 The Dominique rooster has his feathers ruffled around his head too but I can't really see much of his head.
Look at Otis!  Talk about a bully.  Puffing out his chest and trying to look like the big dude.  He's a bantam, for goodness sakes!  He's a mini chicken! Oh, yes, Otis!  You're bad!
See Tiffany in the back?  I think she's fixing to start selling tickets to watch this fight.
I walked off and left them alone and I guess one of  them found a bug to chase because they soon forgot about each other.  Why can't they all get along and be happy?  Don't they know life is short and everyone should find a way to get along.  In fact . . life is going to be even shorter for Otis if he doesn't find some way to be a nice rooster . . and I doubt he's going to do that.