Every day I wonder how I'll survive Vince's retirement.  No . . it isn't happening any time soon.  All these years I've thought how nice it was that opposites really do attract and we're so different and yet we're so alike and we get along so well . . when he's at work all day and I'm home to do what I want! 🙂
We had an anniversary this week and Vince wanted to go to Abilene or San Angelo to celebrate shop.  I said NO!!  There was a bit of a discussion and oh . . he so badly wanted to take me out to dinner for our anniversary.  Yep, I know what he wanted . . he wanted to stop at every store and walk through and pick up everything and look at it, buy some stuff we don't need and come home only when I got real testy.
There's a restaurant in Comanche that I like and there's no mall, no Wal-Mart, no Home Depot . . nothing in Comanche.  Nothing that I knew about.  So, I said . . Hey!  We can go to the restaurant in Comanche for our anniversary dinner!  I was so smart to think of that.  He said that was a good idea and we planned to do it last night.  When he was home at lunch, he said "I'm taking off early and we can go to Comanche early and stop at some of the shops on the square!" Shops on the square?  I didn't even know about them but . . that man can find a way to shop no matter where we go.
Antique malls or flea markets . . those kinds of places where people rent booths and put stuff in them . . that's where we went . . and Vince had so much fun.  He owes me!
I found this and I thought it was so interesting but I love shorthand.
I could have sat there for hours and transcribed the pages in this book.  Doesn't take much to entertain me, does it?  No, I didn't buy the book.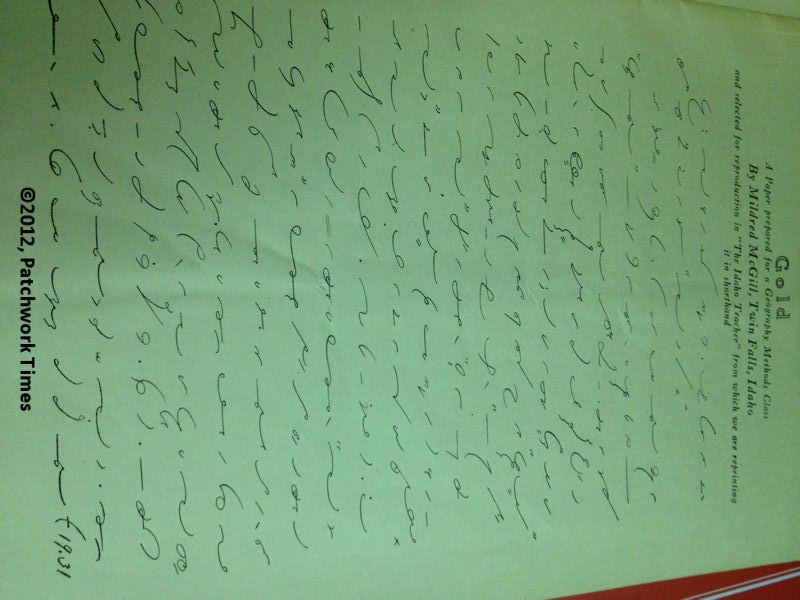 Then, Vince decided to take off today to get some things done around the house.  I trusted him!  I believed he would get so much accomplished.  Early this morning, he pulled the peas out of my garden so I can plant tomatoes for fall.  He came in and said "Want to go to Brady for lunch?"  Brady is 40 or  50 miles from here.  The middle of the day was going to be too hot to do things outside so I said fine.  We got in the car and he said "Want to go to Mason?  It's only about 30 miles farther than Brady."  Huh?  That's 70 or 80 miles one way . . why would I want to do that?  We did it. . we walked around the square, visited a few shops, we ate lunch, we came home.
What am I going to do when he retires and wants to go somewhere every single day?
I developed a plan in Kentucky.  Everywhere we went, I would buy something . . sometimes a lot of stuff.  If we went in a shoe store, I'd buy 2 or 3 pairs of shoes.  If we went to T. J. Max, I'd fill the cart.  I thought eventually he would think it was too expensive to take me away from the house but he never got to that point.  All I did was fill up the house with more stuff I didn't need.
What on earth am I going to do with him?  🙂