Friday night when the power was off, there was still plenty of light outside . . enough light to knit, but there wasn't much light inside.  I commented that it sure would be nice to have some furniture on the porch!  That was not a good comment.  We bought some furniture in February or March and it was still sitting in the boxes on the front porch.  The chairs had to be put together.  I'm not real sure what we were waiting for but Saturday morning, fairly early, Vince was out putting together the chairs.
The plastic was still on the cushions when I took the photo.    Vince decided he wanted a table where we could eat outside if we want so yesterday we went shopping for more porch furniture.  It's all on sale and there was still a pretty good selection.  Here's the table we ended up with.
Pretty inviting, huh?  With the fans, it's comfortable out there til about 11:00 in the mornings but then it doesn't cool down til about 8 p.m.  Fall's coming though and I think we'll spend a lot of time on the porch.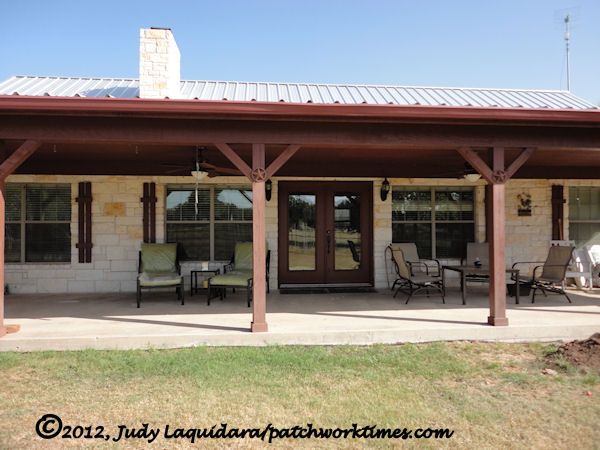 We also got a glider with cushions and it didn't get put together. I think the plan for it is to go under these trees so we can sit and watch the chickens.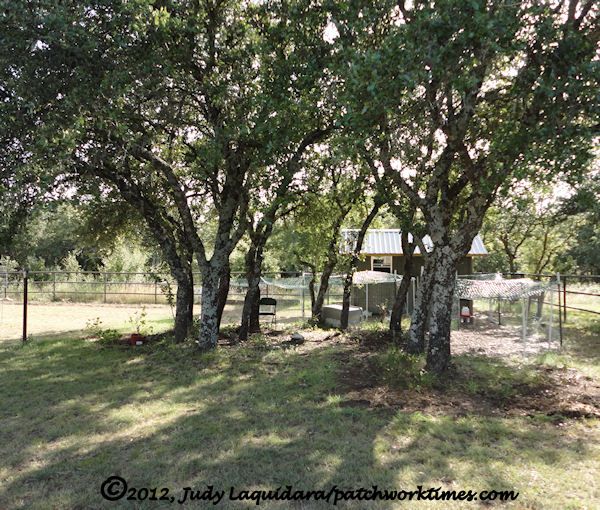 See the big gray bucket on its side there behind the trees?  That's the chicken jail.  Otis spent some time in there Friday afternoon.  I thought after the way he acted that he might not be with us today but so far, he's been a good boy since he got out of jail on parole!  Poor Otis.  He is so funny to watch but he really needs an attitude adjustment!