Our little bantams are so darned cute!  We love watching them.  Thelma and Louise are the two white Silkies.  Tiffany is the little brown Silkie.  We love their big, black eyes.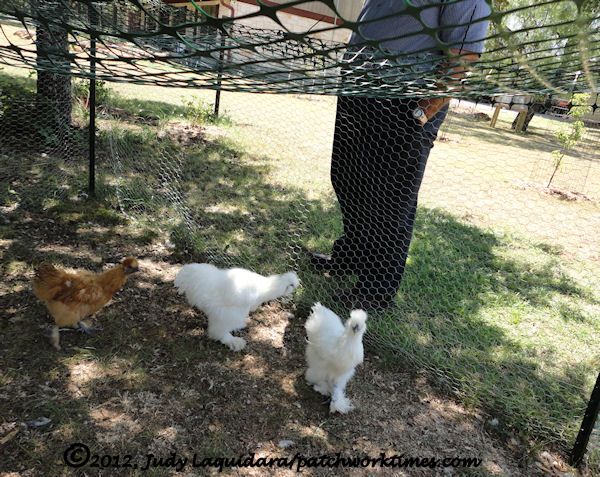 Thelma and Louise are always together.  Thelma is the larger one.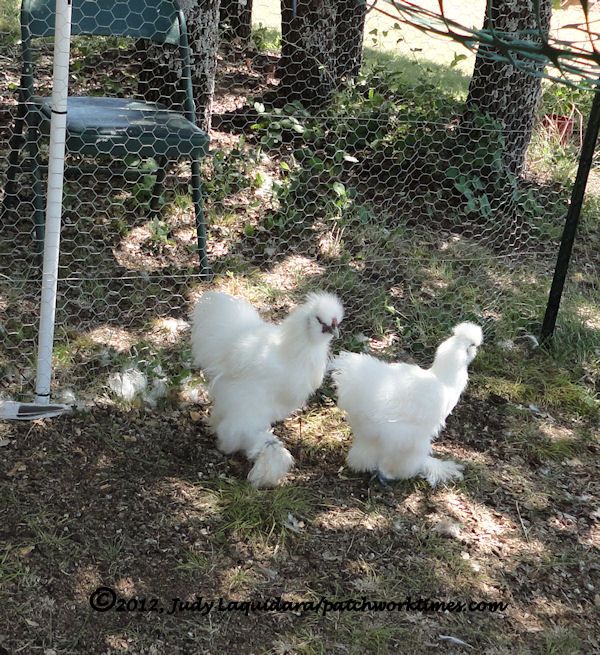 Thelma started out just a little larger than Louise.  Then she kept growing.  Then she developed a red comb and began developing wattles, which may or may not mean she's a he.  The more they grew, the more I began to think Thelma might be a rooster but I just didn't want that to be true.
Yesterday, Thelma crowed.  That's so bad! Now we have three roosters and two hens.  That's not going to work.  As a minimum, you need 7 hens per rooster.  Two hens and three roosters . . no way!  Besides, the roosters are going to fight.
So . . who goes?
We love Roscoe.  Vince especially loves him.  Vince sits out in the run with them and feeds them snacks and he and Roscoe talk men talk.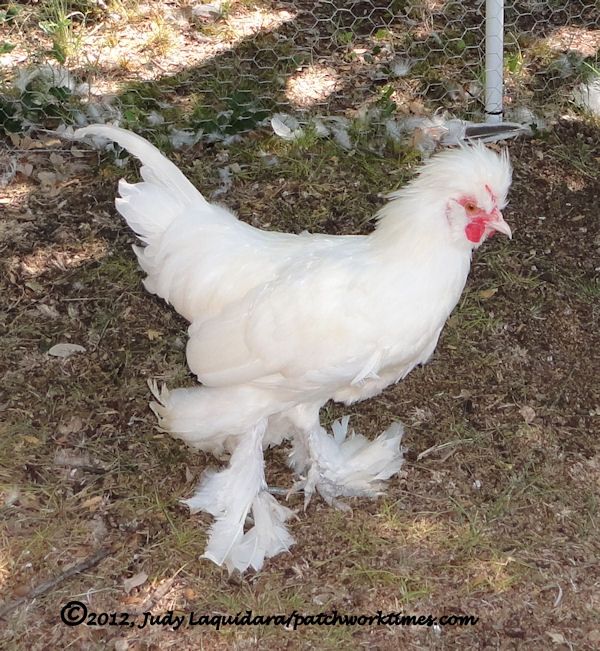 And there's clumsy, goofy looking, weird acting Otis.  He crows non-stop.  He puts so much effort into his crows, he must be exhausted by bed time.  He walks up to the other chickens and does the funniest little dance where he does some kind of tap, tap, tap with his feet.  It sounds like a little drum.
What are we going to do?  We tried everything we could try to find a home for Bertha and it seems like everyone is trying to get rid of roosters.  No one wants them.
My suggestion was to order more hens.  If we ordered 20 bantam pullets, we'd have a good ration of hens to roosters.  Then we could build a larger chicken coop because their coop wouldn't be big enough.
You don't even want to know what Vince said to that suggestion!  Even having one rooster with just two hens isn't good.
We may try putting Otis in with our 13 red hens.  He's a little bigger than the other bantams and maybe he wouldn't be so rough with the bigger chickens.  It's not easy adding an adult chicken to other adult chickens but I think it's worth a try.
We'll see and you know I'll keep you posted.