Being the fashion-conscious-everything-must-coordinate person that I am . . I demand that whatever camera I'm using also match my current knitting project.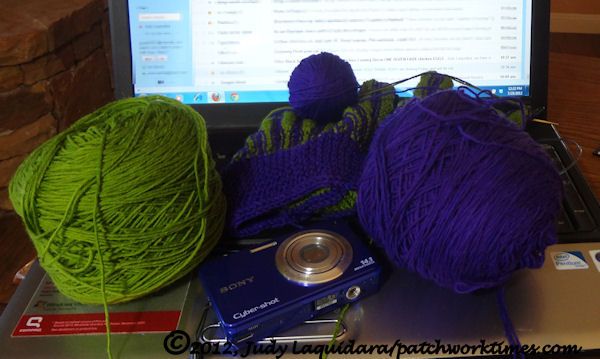 See my new purple camera?  Some of you may have noticed that my husband has a real problem with buying stuff — mostly stuff that is on sale or things he perceives to be a bargain.  You may think I'm bad because you see the yarn and fabric I buy or have accumulated but . . maybe I'm just justifying my bad habit but I can see having a large variety of yarns and fabrics to choose from.  When I want to make something, I just go to my stash and get it and use it.  And, yarn and fabric prices have not gone down so it's like money in the bank.  That's my story!
But Vince .. I just don't know about him.
I have two nice Nikon cameras — a D40, which is kinda like a Singer Featherweight in that folks who have a  D40 usually don't get rid of it, even if they get a newer and bigger camera; and I have a D3100 that I bought because it does some things that the D40 doesn't do.  I'll maybe buy a new lens from time to time but I don't see myself buying another nice camera.
I mostly use little pocket cameras.  I keep one in my purse, one in the sewing room, one in the house, half the time I've left one in the garden or one out on the front porch.  Vince knows how much I love always having a camera with me, and he knows that a few of them have been dropped on tile floor, or left out in the rain  . . back when we lived where it rained!  So, he's always on the lookout for a good deal for a camera for me.  He loves to find a closeout model that has been marked way down.  Heck, I don't care how many megapixels the little cameras have as I reduce the image down to about 25% for posting on the blog.
The other night Vince was on the computer and he said "Do you need another camera?"  I said . . no, I have plenty right now.  Haven't lost one or dropped one in a long time.  He kept on . . this one does this and it does that and it's purple!  I kept saying . . no, I don't need it.  Finally, I said "Get it if you want it.  You know you're going to anyway!"  So he did.
Today at lunch the Fed Ex guy came driving up.  Vince hopped up and ran out to meet him.  Hmmm . . that's not how things usually happen.  Usually I'm the one to go out and meet the delivery guys.  He came in carrying a huge box.  I said . . if that's my camera, I don't think I'm going to enjoy using it.  NO!  The big box is probably my stereo!"  The small box that I hadn't even seen was my new purple camera.
I wish I knew how many stereos/music players my husband has.  I think he has 3 iPods and several other mp3 players and as far as I know, he's never put the first song on any of them.   From MO, we moved at least 4 iPod dock/player type things.  I ended up putting one in the third bedroom here because that's where I fold clothes and iron.  That means there are 3 more.  Last time we were in Abilene, he bought another one at Sam's Club and then we almost had words in Lowe's because he found another one that runs off the same rechargeable batteries that his tools use.  He didn't buy that one.  And now he's bought another one!
I get it now . . he insisted on buying me a camera so I wouldn't say anything about his stereo!  But, I do like my purple camera. And I love my husband, even if he keeps buying stuff we don't need!  One thing for sure . . if more folks spent money like Vince does, our economy would be in much better shape.
Ooh . . bacon is on sale at Kroger this week.  Want to know how much bacon he bought on his way home for lunch?  No . . you don't want to know!