From the very day our baby chicks arrived, March 6, 2012, while I was happy to have them to hold and pet, what I really wanted was fresh eggs.  Some will debate whether there's a difference in yard eggs versus the typical storebought eggs.  I cannot quite figure out how anyone doesn't see the difference.  To me, there's a huge visual difference, from the thick shells that I have to hit much harder against the counter for them to crack, to the bright yellow/orange yolk that dares to be broken, to the white that has no watery appearance at all.
Have you ever seen the living conditions of the chickens who produce most of the eggs for grocery stores?  That makes me so sad. Our chickens have learned to listen for our back door to open.  Whether we're coming to see them or not, the minute our back door opens, they run as fast as they can to the corner . . like they're seeing who will get to us first.  They're loved and they know it!
So . . we got  our chickens on March 6 and on July 4, we got our first egg but those first eggs are quite small.  They're called pullet eggs because pullets are young hens and their first eggs are small til they get everything figured out.
They're figuring it out.  Egg on the right was from the middle of last week.  Egg on the left was from yesterday.  Egg on the right weighed 1.4 ounces.   Yes, I weigh them all.  Eventually I will stop weighing them unless I get a really huge one.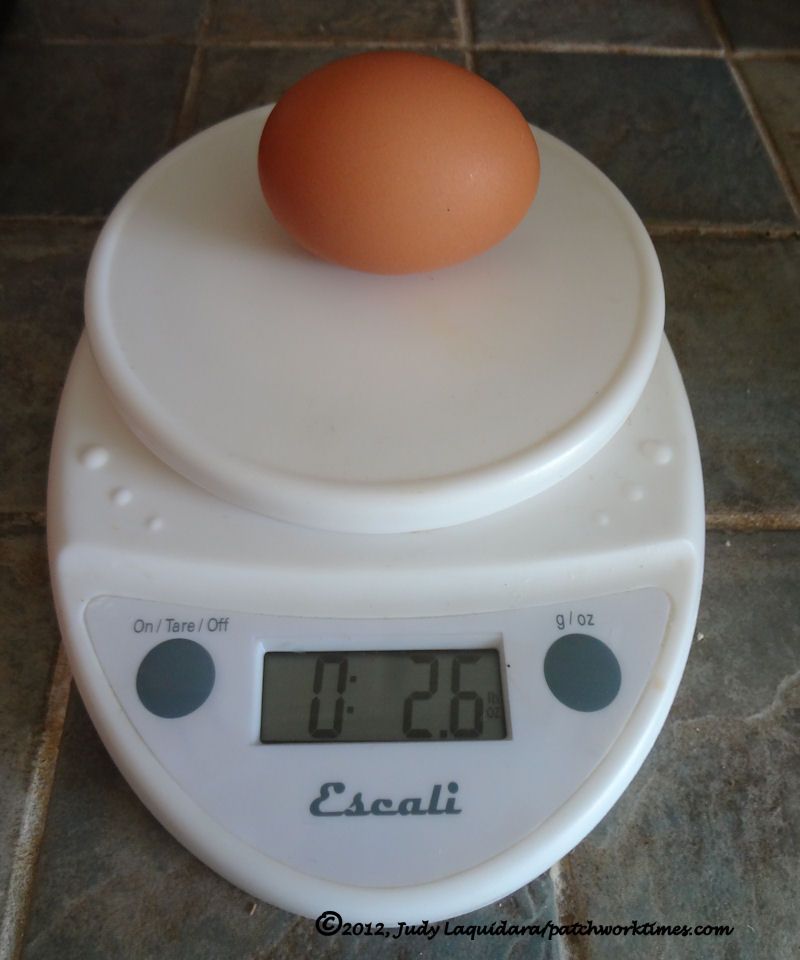 2.6 to 3 ounces is about what I expect from my chickens.  The largest egg I ever got from the chickens was almost 4 ounces and it had a message on the end of it!  🙂
The big egg looks huge in the carton with the smaller eggs.  Soon, the eggs will be so big that even the XL cartons will barely close around them.  I believe it's time to make a pound cake . . maybe the Barf Cake.  Maybe not . . that might make me miss Chad too much.
The light red chickens are the Golden Comets or Gold Stars and they're the same breed I had in Missouri.  They are so friendly!  If you open the egg door or the main coop door,  you'd better be ready to catch a chicken because they're flying right into your arms.  They know that the first one there is  usually the one I'll pick up and pet for a while.  The Production Reds have been real standoffish but now that they've started laying, they're just as friendly as the Gold Stars.  There are 13  hens in the main chicken coop/pen now and they all want to be petted and held when I go out.  No wonder there's no time for quilting these days.  I'm busy holding chickens!  🙂
I'm so happy to have friendly, happy, laying hens again.