If you're not a knitter, you probably think we're all nuts!  There's the mystery that starts today, Camp Loopy every summer,  the Ravellenic Games during those other games  .. the ones that are held in London this year! 
For those of us doing Camp Loopy, on the 27th of the month, we can cast on, and then we have to be finished and have the photos of our completed project submitted to Sheri at The Loopy Ewe by the 27th of the next month.  She usually announces the project details about 2 weeks prior to the start date of the next project so we've all been stalking The Loopy Ewe's site and Sheri's blog and impatiently waiting for Project #3 details.  The first project was to knit something designed by someone from a country other than your own and to use at least 400 yards.  I knitted a baby blanket.  The second project was to knit something using at least 800 yards and I'm knitting on my Cranberry Capelet.  Sheri does updates and announces new additions to The Loopy Ewe on Mondays and we all just knew she would include the details for the third project in Monday's update.  She didn't!  We were waiting on pins and needles or . . maybe it was yarn and needles!
Wednesday I was going to meet Vince for lunch and had some errands to run, most of which I planned to do before meeting him.  Just before leaving home, I decided to check Sheri's blog to see if the details for Project 3 had been posted and they had.  Oh, no . . I had places to be but I couldn't wait to make a decision on my project and get the yarn ordered.
For Project 3, we have to use at least 500 yards and do something with 2 colors.  I was tempted let let the West Mystery be my project but since it starts today, and since we can't start knitting Project 3 til July 27, I knew I couldn't do that.  I went through my favorites on Ravelry to come up this: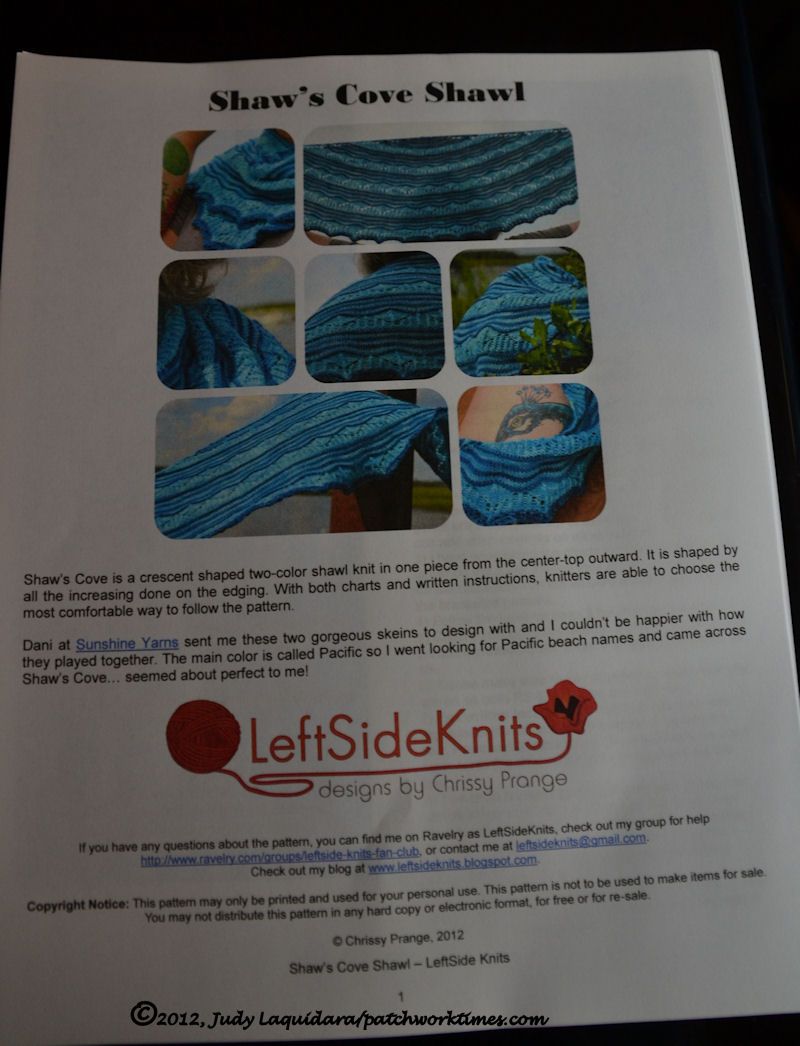 It's Shaw's Cove Shawl.  It's a fairly new pattern, having been added to Ravelry in June.  From looking at the projects listed on Ravelry, many of the folks who have made it already have used Madelinetosh Merino Light.  Oh, how I love that yarn.
Two colors?  What two colors?  It's so hard to tell on the computer screen so I went to the Madelinetosh forum where there's a "Color Pairing" thread and folks post pictures of yarns they've put together.
I grabbed the first thing I saw – an envelope, and began writing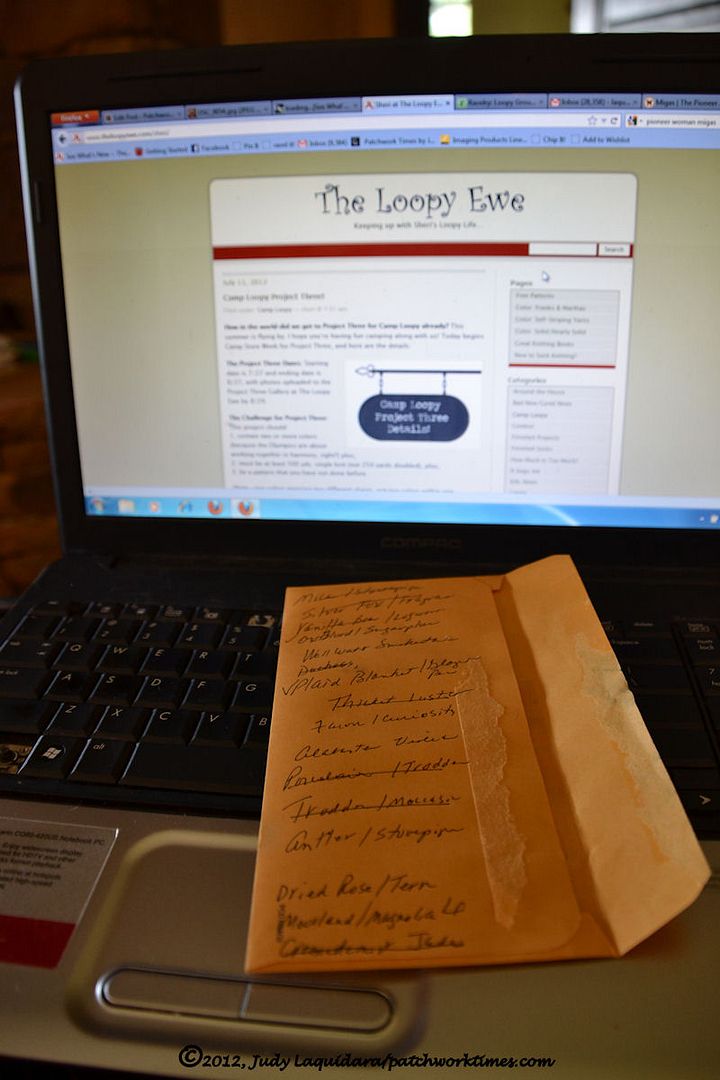 down colors that I liked together.  Then I went to The Loopy Ewe to see which of those colors they had in stock.  All this time I was watching the clock, knowing I did not want to be late to meet Vince for lunch.  I do not like being late!
Finally . . a decision was made.  The main color, where the one shown has light blue, I will use Glazed Pecan, which is a gorgeous, coppery brown.  For the contrast, I will use a green/brown/gray shaded color called Plaid Blanket.  It's a color I've been wanting to use for a long time.
I was on time for lunch but I did not get to run any errands til after lunch.  That's ok . . yarn for my Camp Loopy Project 3 is probably on its way to me now.