Stephen West's Mystery Shawl 2012:  Rockefeller starts tomorrow.  I could be crazy for even starting this.  First, I don't know how to do color changes.  Second, Camp Loopy is still going on.  The second project has to be finished by about July 27.  I think I can do it.  The third project starts July 27.  The last clue for the West Mystery will be posted August 3.  And, finally, the Ravellenic Games begin on July 27 and I am going to try to knit non-stop all during the games.  No cooking.  No sleeping.  No eating . . ok . . that may not happen but I am going to try to get lots of knitting done.  I have my list of all the events in which I will be participating.
Cable Steeplechase/Sock Put/Single Skein Sprint – the Zora socks I started for the mechanic's wife but finished a different pair for her.  One sock is done.  One isn't started.
Cowl Jump/Holiday Hurdles/Synchronized Stashbusting – Honey Cowl – I want to make this for Nicole for Christmas.
Cowl Jump/Holiday Hurdles/Synchronized Stashbusting – Cowlie – I want to make this for Chad for Christmas.  I think it would be a good hunting cap for winter since it should be hard to lose.
Add to those three items, the Camp Loopy Project #3 and the West Mystery and there's a slim to none chance I'll get it all done.
But, I do need yarn for the West Mystery.  One of the yarns he suggests is Wollmeise.  Goodness . . it's hard to use that yarn!  We need to use two different skeins and they need to be different enough so that there's no "blending".
There were so many color combinations that resulted from these yarns.    Below are some of the ones in the running and some of my thoughts.  Please share your thoughts.  And remember . . it rarely gets cold enough to wear a coat around here!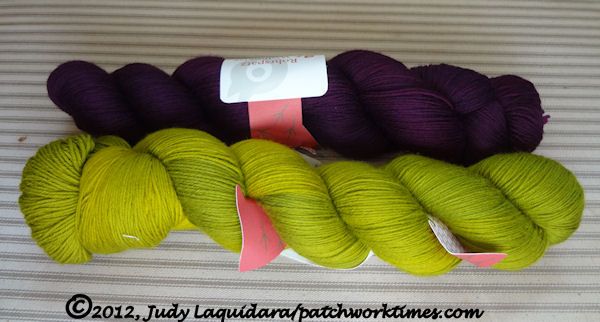 The purple and lime.  Does it get any better?  I actually have a pretty lime sweater and I think I could wear this with it.
Navy-ish and lime.  Almost as good as purple and lime.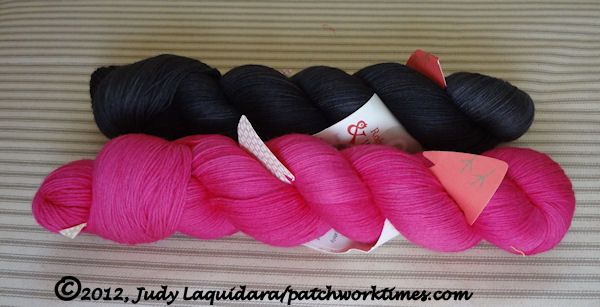 Dark gray and pink.  I'm not much on pink but I could give it as a gift.  Wearing pink in winter bothers me a little.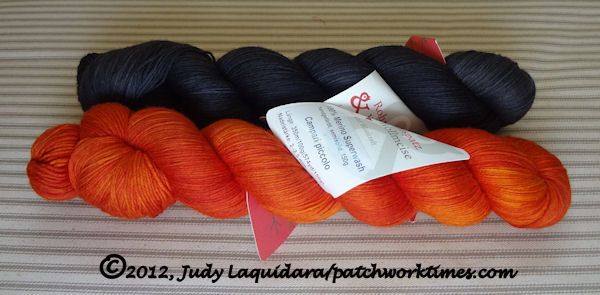 Dark gray and orange.  I like this but to me, it feels like someone's school colors . . maybe because my high school colors were orange and black.
Pretty hard choices I gave myself, huh?