Today is when we will begin the Sunny Side Up quilt along.  Welcome to anyone who is new doing quilt alongs with us!
For my "dark gold", I'm using a green and my "light gold" is a bit darker and my background is a small print.  Yes, I said . . it's a PRINT!!  Someone call the doctor! 
 Most of the drawings will show the pieces in light gold, dark gold and background so I hope my using different colors in my own top isn't too confusing. For those doing a patriotic version, please refer back to the original drawings (click on the Sunny Side Up top in the left sidebar).
These are my fabrics.
For today's instructions:
1.  From the background fabric and the dark gold fabric, cut 3 – 1-5/8" strips.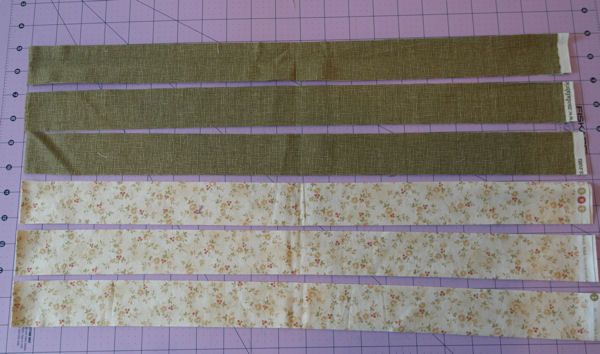 2.  Sew the strips together to make 3 strip sets.
3.  Press the seam allowances towards the dark gold fabric.
4.  Cut those strip sets into 72 – 1-5/8" segments.  (If you stack them as shown in the picture and cut, they'll be ready to take to the sewing machine and sew into the four patches.)
5.  Sew those 72 segments into 36 four patches.  They should measure 2-3/4" square (unfinished size).
6.  This is a great time to fan those back seams to get a nice flat center for your little four patches.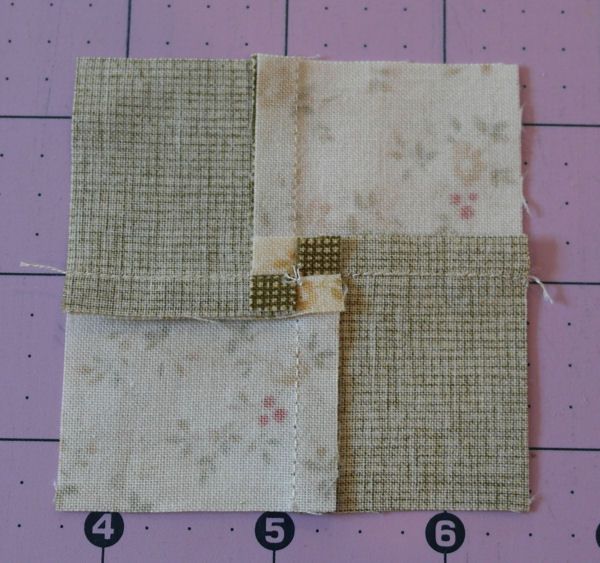 The next instructions will be posted on Monday, May 6.