For many years I have believed that the Singer 301 is the best sewing machine ever.  Of course, it's just a straight stitch machine — no embroidery, no fancy stitches, though there is a zig zag adapter.
If I come across a machine that causes me to change my mind, I will let you know.  Most everyone reading this blog has a sewing machine and probably 99.9% of you love the machine you have and think it's the best one out there so this is not a debate about the best sewing machine.  Like so many things in life, what's best for one isn't necessarily best for another.
I have a Bernina 930, a 1230 and a 1430 (and I'm not even sure about the 1430 – I think that's the number but I haven't used it enough to even know and it's in a box, not even unpacked since the move).  I do have the 1230 set up and I mostly keep the walking foot on it for bindings but I have two 301 machines set up in the sewing room and one set up in the house so I think that speaks volumes about my favorite machine.
The reasons I love the 301:
With a little effort, very affordable machines can be found.  I believe I paid $35 for two of mine (that's $35 each) and both included nice cabinets.
Short of abuse, there's so little that can go wrong with these machines.  They're gear drive so there are no belts.
They're the kind of machine that Vince can take completely apart and put back together again (not that I would let him) but the newer electronic machines, I wouldn't even want him to take the cover off those!
They make a perfect stitch!  Tension, stitch length . . it's all perfect!
Many of them are in cabinets but they also have a handy carrying case, with a nice, sturdy handle.  The machine weighs about 16 pounds so it's very portable.  The Featherweight is about 11 pounds but I find I enjoy sewing on the 301 so much more than I do on the Featherweight.
The feed dogs can be dropped on the 301 for free motion quilting or darning.  They cannot be dropped on the Featherweight.
The 301 does not have:
Knee lift – I've never used mine on the Bernina so I don't miss it but for those who use it a lot, the 301 doesn't have it.
Automatic needle threader – I've never used that feature on my Bernina so I don't miss it.
Needle Up – I sometimes do miss that the needle always stops up but with a little practice and paying attention, I know where to stop the foot pedal so the needle almost always stops up.
The 301 is a "slant shank" machine.  Singer made the high shank, low shank and slant shank.  I'm not sure why there were three versions but they all require different feet, though there are some adapters that can be used to make some of the feet fit different machines.
A lot of the 301 parts also fit the Featherweight — bobbins, bobbin case, throat plate.  But, the Featherweight is a low shank machine and the 301 feet do not fit the Featherweight.
For my 301, there are two 1/4″ feet that I like.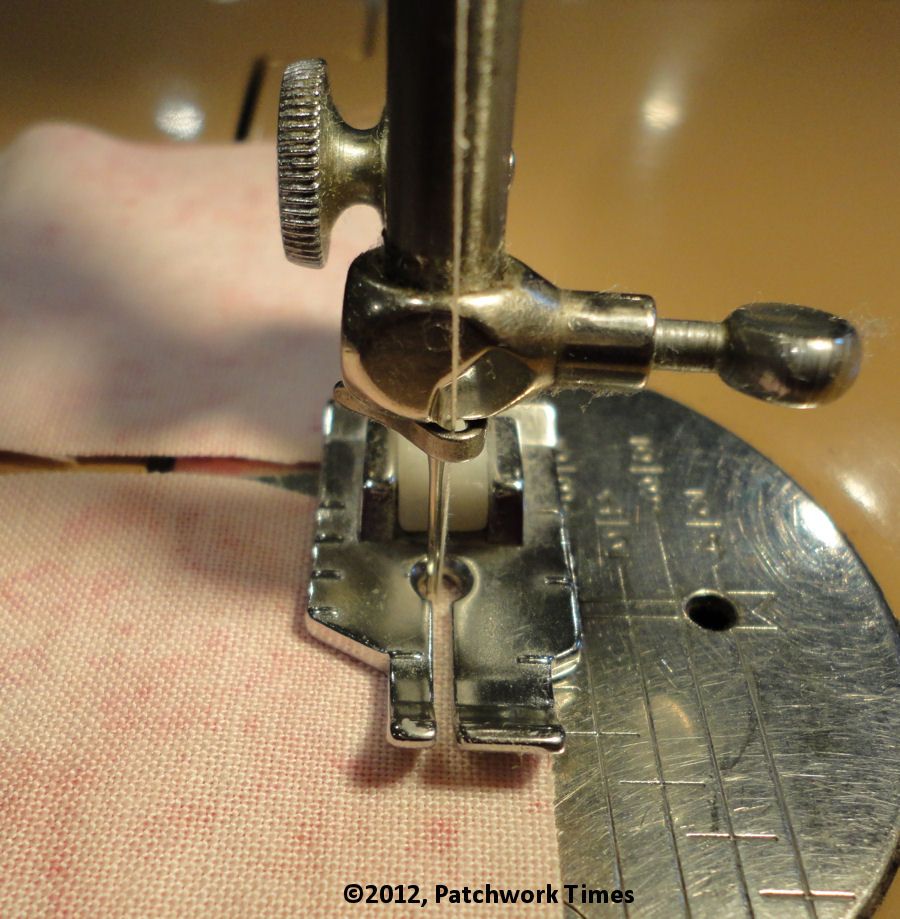 I like this one if I'm doing paper piecing mixed in with traditional piecing.  On the rare occasions when I'm doing something besides patchwork, I'll use this foot.  I find that I get just a smidge over 1/4″  if I use the edge of this foot on the edge of my fabric.  The throat plate lines do include a 1/4″ line so it's still easy to get a perfect 1/4″ seam either by using the throat plate line or building an "guide" with tape.
The main foot that I use for piecing is the knife edge foot.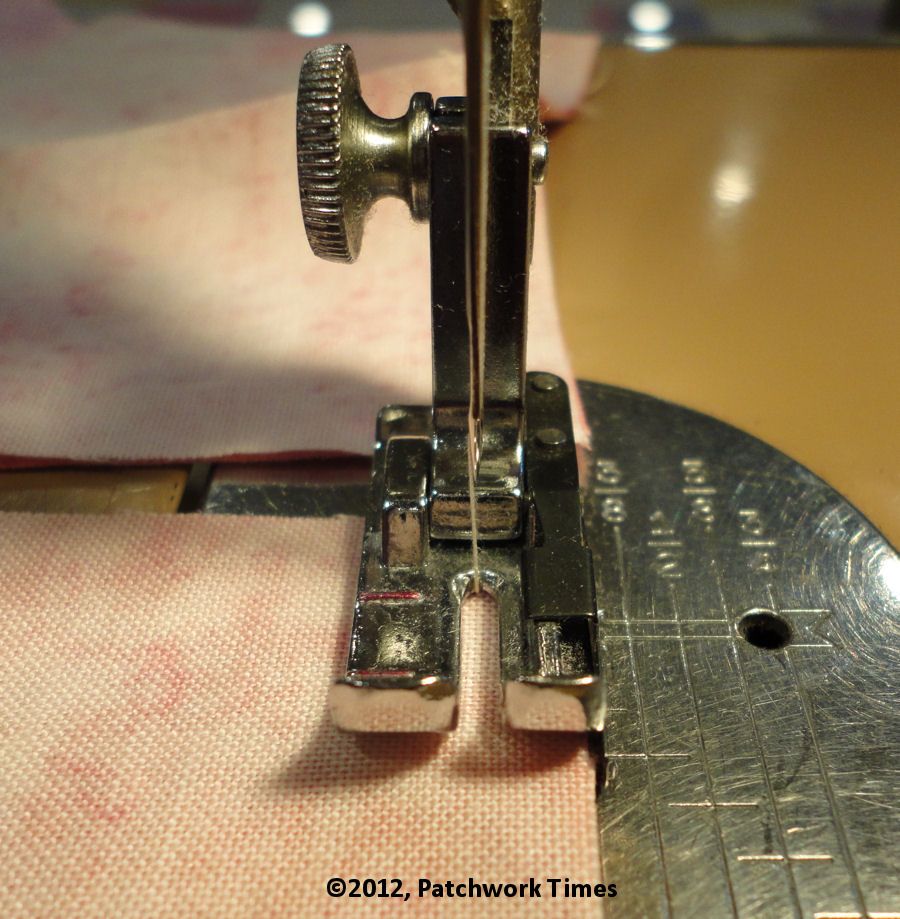 I like this foot a lot for several reasons:
It feels very sturdy and never seems to jump seams or veer off towards one edge.
The center opening is larger and I have a better view of my stitching.
See the two little red lines on left edge?  The one right at the needle lines up exactly with your stitch so if you want to stop right at a certain point, it's real easy to see where to stop.  The line towards the front of the foot lines up with 1/4″ from the edge of your piece.  If you're going to miter a corner and want to stop 1/4″ from the edge, you'd stop stitching when the edge of your fabric meets that first line.
This foot sews fine over paper when I'm using the Triangulations paper but if I were sewing something that needs a 1/2″ or 5/8″ seam allowance (can't remember the last time I needed that), I wouldn't use this foot.
There's also this little magnetic guide:
It's great if you have a very narrow foot but it bumps into both of the 1/4″ feet that I have.  Because the machine is aluminum, the gizmo does not "stick" to the machine, only to the throat plate.  The throat plate is not large enough to accommodate it if I try to extend it out past the 1/4″ foot and it turns in and just doesn't work but if you don't have a 1/4″ foot, and do have a narrow foot, you could use something like this.
If you don't have a special 1/4″ foot, no matter what machine you're using, figure out where that mark needs to be.  The easiest way I've found is to stick a clear acrylic ruler under your presser foot.  Gently, my hand, bring the needle down to where it's right on the 1/4″ mark, then mark the edge of your ruler with some kind of tape . . anything you can use as a guide.  There are all kinds of products available for purchase but I try to find something around the house.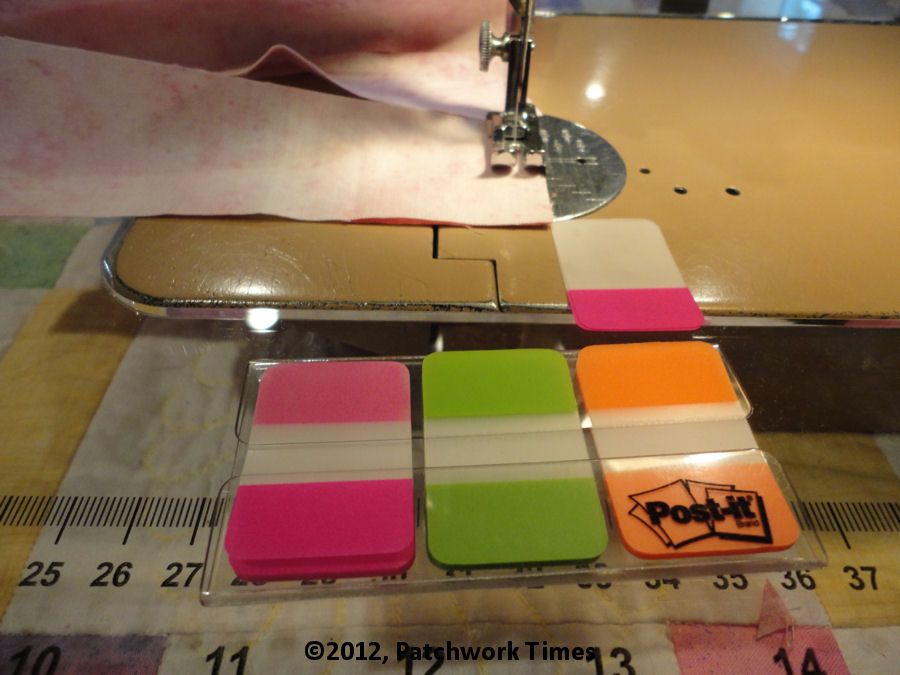 These little Post-it tabs work great. Stack 3 or 4 of them up and they make a nice little edge.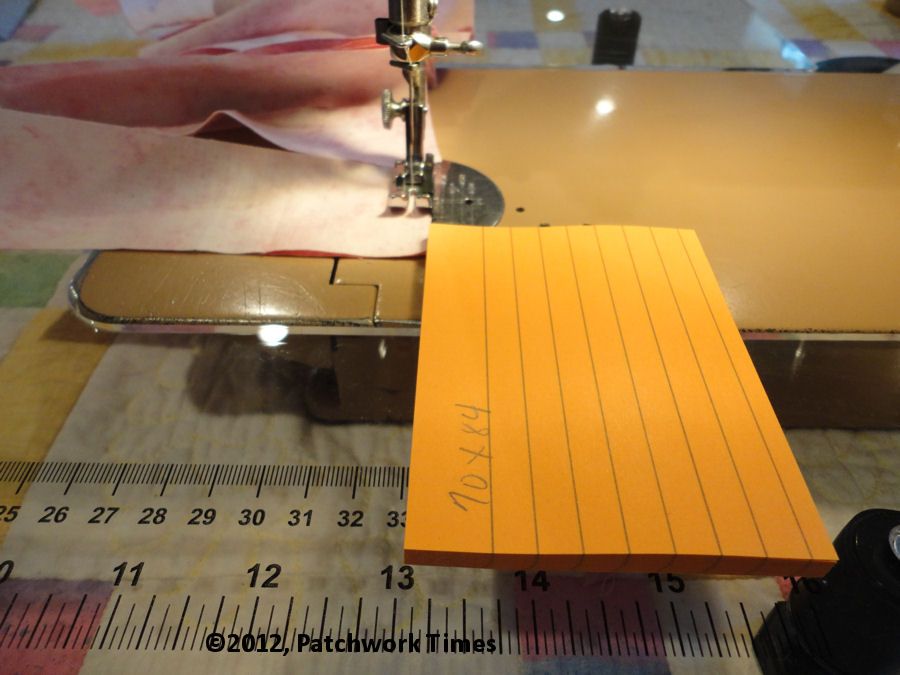 Or, remove the back pace from a pad of Post-it notes and stick them down.  If they lose their "sticky" after a while, peel off the back sheet and you have fresh "sticky".  Just be sure it's genuine 3M products, ok?  🙂  (For those who don't know, Vince works for 3M.)
Happy Sewing!  🙂