Many asked last time about a link box and here's what I'm going to try.  Each day during the quiltathon, I'm going to post a "running update" of what I'm doing.  I'll update that post throughout the day and I'll put a link box in each post.    I'll see if I can put the link boxes at the TOP of the posts for Quiltathons so they don't get confused with the stash report link box on Sunday.  Think that will work?
The link boxes will be open for 24 hours so please get your post done for each day if you want it to be included in the link box.
Here's my report for September 13 . . and I'll keep updating this throughout the day:
8:15 a.m. – Laundry is started, housekeeping chores are done, chickens are tended (The Wild Redhead has been caught and put back in the pen, another escape route has been plugged!) As far as sewing, I'm just getting started. The half square triangles paper has been printed using Triangulations.
1:05 p.m. – Border bundle is done.  I always make the borders first and then it seems like it isn't such a chore to get them done.  Sashing rows are sewn together and all the sashing pieces are cut.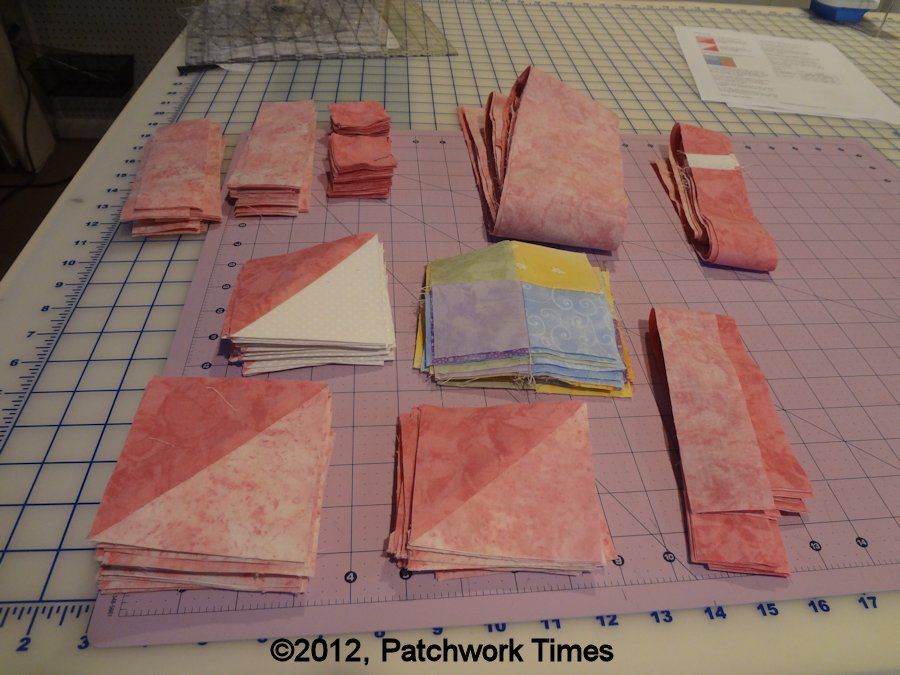 6:00 p.m. – Quiltathon Day 1 is finished at my house.  All the half square triangles are made, the four patches are made, the framing strips and squares are cut.  Tomorrow I will cut the triangles that go around the four patches and will begin block assembly.
Hope you've all had a productive day!