I have a good one today on my design wall!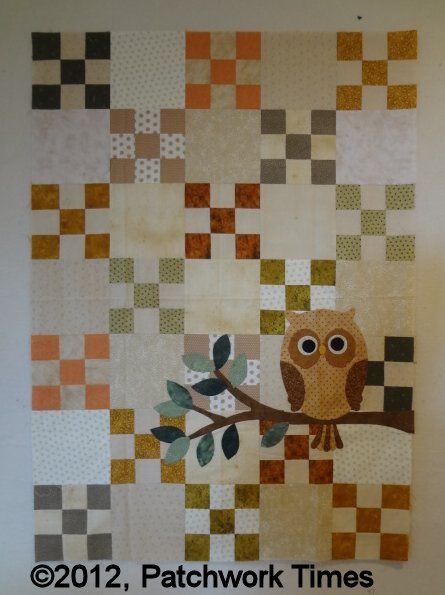 This pattern is "Remember Whooo Loves You".
Back in early May, when I first found out Chad and Nicole were using an owl theme for the nursery, a friend suggested this pattern.  This is a friend I first "met" many years ago on Alex Anderson's message board.  We all had screen names.  She was known as "Lady Baltimore" and even though I've met her in person and have corresponded with her for many years, I'll always think of her as "LadyB" and I actually have a hard time calling her by her real name, which is Nancy!
LadyB does gorgeous applique . . I mean . . it's perfect.
So, not only did LadyB suggest this pattern for my grandbaby's quilt but she told me that if I would make the nine patch top and send it to her, she would do the applique.  I jumped at that but this is the quilt that I had mentioned that I was waiting to make to be sure the baby was a girl and then Nicole said she wanted it to be non-gender specific so that's when I made it using the colors Nicole wanted, sent it off to LadyB who did the amazing applique and sent it back to me.
I think I'm going to put a narrow medium/dark border, then a small nine patch border, then another medium/dark border.  I was kinda wanting to do a cool border but really . . a little nine patch is probably perfect and I don't want anything to distract from the applique.  She used ultra suede for the eyes and beak and I can't wait for Adalina to be old enough to see it and touch it and realize the eyes and beak feel different from the rest of the quilt.  It's just so cute!  I think I'm going to hand quilt it.  I'll have to think about that.
What's on your design wall?